April 19, 2022
ITx Café #8 – Solidarity As A Service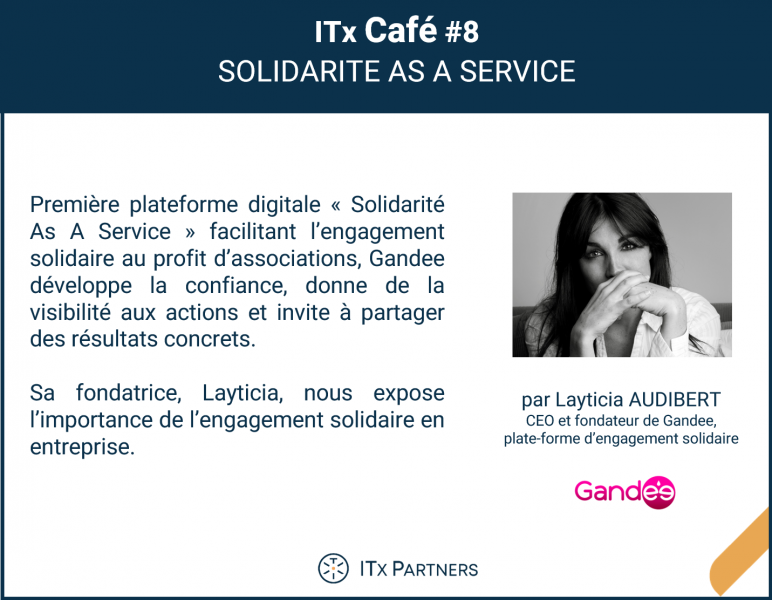 Did you say SaaS?
The first "Solidarity as a Service" digital platform facilitating solidarity commitment for the benefit of associations, Gandee develops trust through a quality charter, gives visibility to actions and invites people to share concrete results. Its founder, Layticia Audibert, explains the importance of solidarity commitment in business: its effects on the employer brand, product brand and CSR.
CSR : sponsorship is not the icing on the cake, it is the yeast that makes the dough rise!
Today, more and more companies – whether large groups, start-ups, SMEs or ETIs – feel the need to be committed to the associative world and to integrate a sustainable development strategy to link performance to sustainability. environmental and social impact (ESG, CSR).
CSR is now a fundamental element of a company's strategy and represents an economic opportunity provided it is carried out effectively and in line with the identity and challenges of the company. It thus makes it possible to send a strong message to customers, employees, consumers and all stakeholders.
Social demand is such that companies cannot cut themselves off from this new requirement, which directly affects their sales and their profitability in the medium and long term. The demand of a number of consumers with the rise of ethical purchasing or sustainable consumption, gradually imposes transparency and traceability of the actions carried out.
Managers can no longer limit themselves to purely economic considerations: in a highly globalized and competitive economy, the company's adaptability to any data relating to its environment becomes the key to its strategy and even to its survival.
Philanthropy, attractiveness and employee loyalty
The observation is obvious: employees working in companies practicing sponsorship often declare that they are happier and more satisfied at work while also being more committed to their company. They are even twice as likely as the others to say they are very satisfied with their work when they get involved personally (donation on salary, for example).
Today, employees (and particularly millennials) are looking for companies that defend values ​​and give meaning to their activity. Consequence: the solidarity commitment practices of employees reduce turnover by 53%.
Philanthropy is one of the criteria that improves the employer brand and the perception of the company by its employees. 72% of employees believe that, given the choice, they prefer to work for companies that support social or environmental causes or associations. 56% of "digital natives" are looking for commitment in their professional life and favor employers invested in a generous approach. A way to attract and retain talent!
The improvement in the feeling of well-being and performance of employees is observed even when they do not participate directly in the company's sponsorship: being part of a generous company helps to improve employee commitment and productivity. By aligning company values ​​with employees' desire for philanthropy, employee engagement, motivation and productivity can increase by up to 30%! They feel pride, are more emotionally engaged, have a more positive image of their company and are more likely to speak positively of their employer (read the Josey Bass study).
Philanthropy and business
Up to 93% of French people are enthusiastic about corporate sponsorship commitments. 90% of French people want brands to really commit (Denjean & Associés).
Other studies show that 80% of consumers believe that a company can/should be supportive while pursuing its economic objectives, and prefer those that prove their commitment.
2/3 of them declare that they want to buy as a priority products whose company has a real ethics. According to a study by France Strategy, companies with CSR policies even generate a performance gain of 13% on average compared to others. 75% of French people would change brands for an equivalent competitor who supports a cause. Engagement helps deliver consistent messages.
97% of French people are ready to boycott companies with destructive social or environmental practices! Companies that choose to carry out sponsorship actions are not mistaken. Indeed, 65% to 93% of French people say they are "happy" or "enthusiastic" about these practices.
Patronage and CSR
Patronage is now an integral part of the CSR policy of companies, and constitutes for them not only a philanthropic act but also reinforces their societal and economic project.
Patronage is no longer an accessory in the business world. It now represents an essential link by constituting a tool for the overall transformation of the company towards its societal goal. Patronage is the S of ESG, CSR and SRI criteria!
Committing, preferably on a long-term basis, to an association provides the necessary guarantee for the visibility of the company with the general public. Indeed, the actions of associations are concrete and often have an immediately visible, tangible and intelligible impact, with strong repercussions.
Patronage therefore makes it easier to understand one aspect of the company's societal commitment and embodies CSR by allowing employees, the public and the company's ecosystem to project themselves into it and find sense.